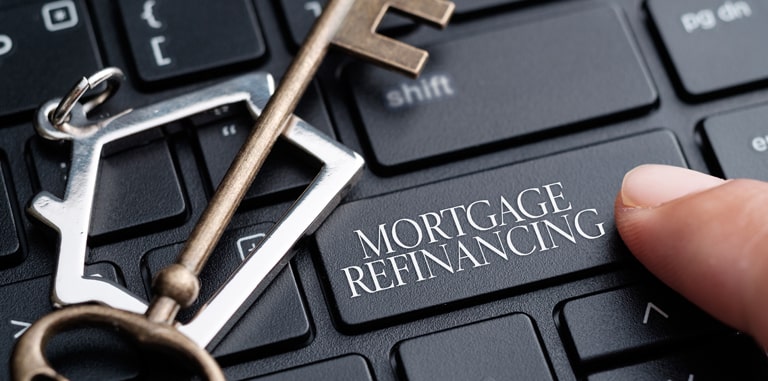 What Is Mortgage Refinancing?
Mortgage refinancing allows you to replace the mortgage on your property with a new mortgage. You work with the lender to negotiate different terms than the original mortgage. Unlike a second mortgage, which is an addition to your first mortgage, mortgage refinancing is designed to provide you with better mortgage terms.
Homeowners often opt to refinance their mortgage when interest rates drop. This allows them to pay significantly less than the original mortgage so they can save money and also have better cash flow as their monthly payments will be lower.
However, there are costs associated with refinancing in some cases. You often have to pay the fees associated with breaking your mortgage. This fee is designed to help lenders capture the lost revenues in the case where a borrower ends their contract.
Fees tend to be as follows:
Fixed-rate mortgage: You will pay the greater of three months interest or interest rate differential.

Variable mortgage: You will only pay three months' interest.
Reasons to Refinance a Mortgage
Refinancing is an excellent option if you want to access the equity in your home or save money on the interest you are paying. We can help you determine if the benefits outweigh the costs. There are several reasons to consider refinancing, including:
Access Home Equity: Your home equity is your home's current value less how much you still owe on your mortgage. This money is available to you through refinancing. Many people choose to do this for several reasons, from home renovations to helping pay off debt. You have up to 80% of your home equity available to you for a home equity loan.

Lower Your Mortgage Rate: If you find you are paying high-interest rates, you can shop around if interest rates have dropped. By reducing interest rates, you can save a great deal of money over the life of your mortgage. As well, you can also reduce your monthly payments, which can bring more cash flow into your monthly income. As mentioned, we will discuss the benefits and the costs so you can ensure penalties don't cost more than what you will save.

Consolidate Debt: If you find you have high debt and owe to many different lenders, refinancing your mortgage in order to consolidate debt can be an excellent option. However, it does mean you will break your mortgage term early, which can come with penalties. You can consolidate your mortgage and other debts, so you have just one monthly payment to manage. This is not only easier but can also save you tons of money in interest, especially if some of your debt is owed on a higher interest credit card. You can arrange for a loan of up to 80% of your home's value.
We can discuss your options to help you find the best refinancing solutions for your needs.
Benefits of Mortgage Refinancing
The main reason people choose to refinance their mortgage is to take advantage of lower interest rates and better terms. Although they do have to pay some upfront fees for penalties, if the numbers are right, you can stand to save thousands of dollars. With a lower rate, you also end up paying less for your overall home investment. You'll have extra cash coming in as well, so you can choose to save that and make an additional lump sum payment towards your mortgage if your terms allow or put the money towards other long-term saving goals.
If you feel you are unhappy with your current terms and want to pay your mortgage faster, refinancing allows you to do so. This allows you to build equity in your home more quickly, as well. However, you have to consider how much more you might have to pay each month. You can't take the risk of not being able to afford your mortgage payments.
Some people might want to switch from a fixed-rate loan to an adjustable-rate mortgage or vice versa. You can also consolidate a home equity line of credit (HELOC) into your primary mortgage if you like. When you have an adjustable-rate loan, you can sometimes manage to save more money in the shorter term. However, you have to be aware interest rates can rise and put more pressure on you financially as your monthly payments will rise along with the higher interest rates.
If your HELOC is nearing the end of its interest-only repayment period, your payments might rise. In this case, refinancing to a fixed-rate loan keeps things consistent so you can avoid unexpected rises.
How Does Home Refinancing Work?
Speak to your lender or a mortgage broker to discuss your options and keep in mind that your credit score can affect the rates available. Those with a poor credit score might have less to gain from refinancing as the rates offered might be too high.
Your home's current value will also be important to the refinancing process. Mortgage rates available will be one of your main considerations. You can use our site to find the latest rates or speak to our mortgage brokers.
Look into the terms for your current mortgage. This will provide the information needed to determine what penalties you will have to pay as well as what your current payments and terms look like. Once you find a rate and terms that appeal to you, you can lock into the rate with the lender and proceed with the new agreement.
If you would like more information on refinancing, speak to our mortgage brokers today.