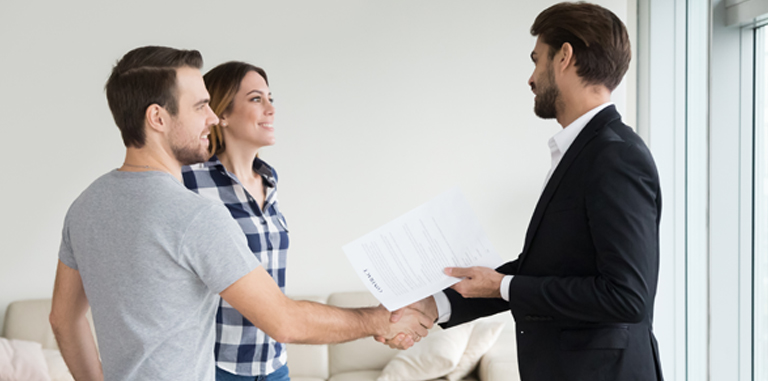 How to get a Mortgage as a First Time Buyer
Buying your first home is one of the most exciting and fulfilling experiences of your life. Being able to invest in this significant asset will provide you with a home to call your own while helping you build instant equity with every mortgage payment you make. However, there are many things you should know before you decide to buy.
One of the most important steps in the home buying process is determining if you can get a mortgage and also how much money the lender will be willing to offer you towards your home. With this in mind, you should first speak to a mortgage broker. They can assist you in determining what mortgage is available based on your credit and finances. This is the beginning of the mortgage pre-approval process.
When you meet with your mortgage broker, you should have an idea of what you are looking for in a home. You want to consider what type of home you need today, and whether or not you plan to be there for a few years or for the longer term. Some of the most critical factors that will affect your home search include:
The areas you would like to live

Home and property size

Type of home such as a condo or a detached house

Amenities that are important to you

Travel distance to work and local transportation

Wants versus needs

New construction, resale or custom home
These factors are helpful when discussing your needs with our mortgage brokers.
When you meet with our mortgage brokers, you will also require some documents including:
government-issued photo ID

contact information for your employer

proof of address, income, down payment, savings and investments

details of current debts

your credit score
This information will be used when we begin the pre-approval process.
How Much Can You Afford?
Of course, first-time buyers have to be certain they can afford a home purchase. Your pre-approval will help you determine this. However, you also want to know that you can meet your payments without putting too much strain on your budget. We can help you decide this, but you can also ask yourself some financial questions before our meeting, including:
How much do you currently spend on expenses and debt payments?

How much have you saved or invested?

How much do you feel you can pay towards your mortgage each month without running into financial issues?

How much can you or have you saved for a down payment?

How would homeownership expenses affect your current financial situation such as utilities, repairs, home décor, insurance, etc.?
You can also consider the following upfront costs, so you have a better understanding before you meet with our mortgage brokers:
the down payment

home inspection and appraisal fees

insurance costs

land registration fees

prepaid property taxes or utility bills (the buyer reimburses the seller or builder)

legal or notary fees

potential repairs or renovations

moving costs

GST/HST/QST on a newly built house or mortgage loan insurance
All of these costs add up and make an impact on the house you can afford.
Last but not least, do you know your credit score? Remember, in order to qualify for a mortgage; you have to show lenders you have been able to pay bills and debts. During the pre-approval process, we will run a basic credit check, but you might also want to get a copy of your credit report, so you know what to expect. We can offer advice on how you can improve your credit score.
With all of this information, you will be better able to decide how much of a mortgage you can afford.
How the First Time Home Buyer Incentive Program Works
As a first-time homebuyer, you can apply for the Home Buyer Incentive program. There are a few qualifiers for first-time buyers, including:
You require the minimum down payment

You can make no more than $120,000 per year

You are limited to total borrowing to 4 times the qualifying income 
With these qualifiers, you are allowed to apply for a 5% or 10% shared equity mortgage with the Government of Canada. This means the government shares in the upside and downside of the property value. You also don't have to increase the amount you have available for your down payment. As well, there is no interest or ongoing payments applied to the government's contribution.
In a nutshell, the Government of Canada's contribution depends on the type of home. They will offer: 
5% for a first-time buyer's purchase of a re-sale home

5% or 10% for a first-time buyer's purchase of a new construction 
The homes that are eligible include: 
New construction

Re-sale home

New and re-sale mobile/manufactured homes 

Types of homes include:

Single-family homes

Semi-detached homes

Duplex

Triplex

Fourplex

Townhouses

Condominium units
The home must be your primary residence and be used full-time for year-round occupancy.
You have 25 years to repay the incentive. You will also have the option to make a repayment in full without a pre-payment penalty often charged by lenders. If you refinance your mortgage, this will not mean your repayment is triggered.
If you sell the property before the 25 years is up, you have to repay the full incentive at that time. However, if you do decide to sell, you have to obtain approval of the sale from the Program Administrator.
The finances are as follows:
The incentive is based on a 5% or 10% incentive of the home's purchase price of $200,000, or a flat incentive of $10,000.

Because the government shares in your investment, the percentage they contribute applies to the current value when you pay back the incentive. For example, if your home rises in value to $300,000 and they contributed 5%, you would have to pay $15,000. 

If the home decreases in value, your repayment value is still reflected in the current value, so you would pay less.
If you are a first-time homebuyer, our mortgage brokers can provide all the information you need for pre-approval and the mortgage and closing process.
In-person connections are still important to homebuyers.
In an increasingly technological world, both lender and broker clients still value in-person connection throughout the home buying process. Nearly three quarters (73%) of buyers agree it is important to discuss face-to-face with their mortgage professionals. However, half would feel comfortable using more technology to arrange their next mortgage transaction (i.e. their mortgage renewal).
Buyers don't want to manage the home buying process alone.
There is a significant decrease in the comfort level of managing the entire home buying process and mortgage transaction without having to meet with a mortgage professional (38% in 2019 compared to 45% in 2018).