What Do You Need vs. Want in a Home: Tips for Buying the Right Property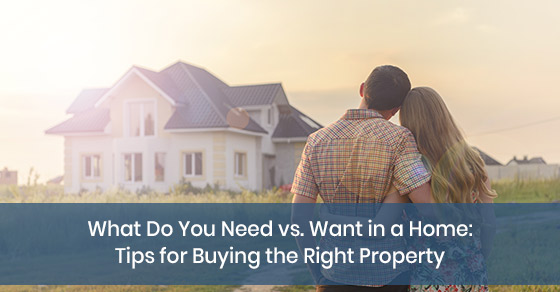 For many aspiring homeowners, the most rewarding part of the mortgage approval, open house showings, and the negotiation and bidding process is taking out their Pinterest vision boards and interior design magazines to see how property listings on the market measure up to their dream home. 
After all, the hard work you've dedicated to investing — and living — in a prime real estate market like Toronto should come with rewarding lifestyle perks that guarantee you the best of city living.
But what's the right home for your lifestyle and financial situation? Falling in love with the best property listing in a coveted real estate market is a balancing act of location, style, and amenities — and often, a compromise between what you need and what you want. 
While certain items like the type of home, location, and the number of rooms may be non-negotiable, there will always be room to compromise when it comes to washroom fixtures and interior design. These are items you can live without or can upgrade in the future once the initial investment is secure.
Remember that your dream home exists in very real financial and lifestyle conditions that determine its long-term affordability, comfort, and value. Being able to distinguish between absolute needs and flexible wants helps you score the best deal in the current market.
Know Your Needs vs. Wants
Before securing a mortgage pre-approval and shopping around for real estate financing terms, many aspiring homeowners have a general idea of the right house for them. By considering factors like their budget, lifestyle, and current or projected household size, they can easily narrow their search for the right property and put a cap on the down payment amount and monthly mortgage payments they expect to make.
Identify Deal-Breakers
For instance, you may be set on the type of house you want — a single-detached five-bedroom family home in a quiet neighbourhood close to sprawling parks, or a high-rise condo or townhouse in a bustling district close to both work and local attractions. 
The surrounding community and infrastructure, such as stores, bus stops, subway stations, a good school district, and other essentials, may also be important, especially if you plan on cutting down a long commute or want to make sure that your home grows along with your family.
Be Realistic
It doesn't matter if you find the perfect house with all the amenities you want if these lifestyle factors are not met, as they dictate your overall quality of life. Any property that isn't located in an ideal neighbourhood would automatically not be a great fit, and eliminating it off your house-hunting list saves time. 
This also applies to other properties that are well outside your budget and encourages you to enroll in real estate financing terms that you can comfortably sustain in a coveted real estate market with the cost of living to match.
How long will you live there?
A lot of aspiring homeowners think this is where the train stops: when they get the keys to their dream home. But the truth is, it pays to ask — how long will this property be everything that you've ever dreamed of?
Assess Your Living Situation
First, consider why you're in the market for a new home. For first-time buyers, the answer is easy: the transition from renting to owning and climbing the property ladder represents a stable personal and professional life that merits a major financial investment. 
But if you're in the market simply for an upgrade, it pays to consider what it is you want to change about your current living situation. Landing on another property and taking on increased real estate financing to support a new and bigger investment wouldn't be so smart if the place you're eyeing has the same build and layout, or extends your commute to work. Think about what you expect to come home to — and whether these are financially realistic.
Starter Home vs. Forever Home
Next, think about how long you will realistically live in the property. For first-time buyers, this means knowing well ahead of time that you may have to trade in your downtown condo for a single-detached home to accommodate a growing family later on. For others, this can mean trading up or downsizing to reflect changing personal circumstances, occupations, and lifestyles.
The key is to know until when you see yourself living in a potential house — and how long you can wait or save up for premium amenities that don't meet the criteria for needs. This also means finding out early on if certain amenities you want but are not currently financially viable can be accommodated in a remodel, and whether the cost of which is still lower than gunning for a property with these premium features outright.
Choose the Right Real Estate Financing
Very rarely do aspiring homeowners pay cash outright to acquire a property. Unless you come into a multi-million windfall or were born into one, the chances are, you will have to take out a mortgage and spread out the cost of the property over a small down payment and a decades-long mortgage plan. 
The moment you become a homeowner also signifies the exact moment you become responsible for monthly mortgage payments that go towards continuously securing your real estate investment as it grows over time.
With many real estate financing options in the market, savvy homeowners need to select the most sustainably affordable terms from reputable lenders. Key considerations should include income and the amount you need to pay monthly, available resources for a down payment, the loan term, and the interest rate. 
Committing to paying off the mortgage as quickly as possible may mean sacrificing a few premium amenities in favour of affordability. In the end, it helps to keep in mind that real estate financing exists to help you invest in a stable, conveniently located home to call your own — any additional perk or upgrade can always be revisited as long as your investment is secure.
For more tips to help you find and buy the right home, call My Phoenix Group at 833-551-0266 or contact us here.