Should I Buy A House In 2020 In Canada?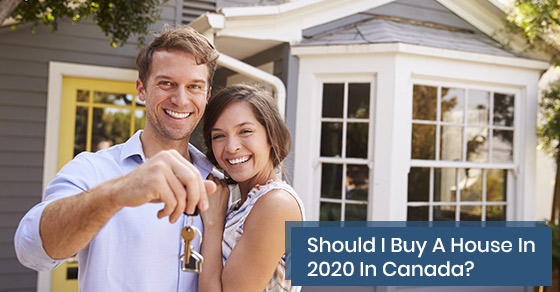 The year 2020 will be remembered in history books as the year that forced many of us indoors, and our work and interactions largely online. With many of us spending more time at home, we're also forced to consider the condition of our living space and the quality of life it offers.
Whether you're finally thinking of putting down some roots and making the jump from renting to owning, or you're due for a lifestyle upgrade to suit your growing family, the COVID-19 pandemic has probably affected these plans. With so much economic uncertainty, a lot of people would rather keep their finances intact to brace for the impact of unemployment and other financial uncertainty to come.
For anyone ready to take a plunge into the housing market, it's natural to have second thoughts. After all, is it really a good time to buy a house in 2020, during COVID-19? With many other potential buyers thinking along these lines, would brave buyers be rewarded with lower mortgage rates and access to prime listings in Toronto as the competition dwindles?
The Canadian Housing Market in COVID-19
The brief downturn of the housing market in March 2020 may as well be a distant memory. While economic challenges, such as unemployment and a decline in business, have forced many Canadians to rethink their investments and financial future, the savviest have been taking advantage of the low-interest rates to make a move to homeownership or move to a better property.
Despite the minor decline in home sales at the height of the pandemic, the real estate market is well on its way to recovery, and near to pre-pandemic levels. Mortgage rates are declining, and the government is focused on increasing public spending to prevent the country from plummeting into a depression.
Amidst these, Toronto's real estate market continues to be busy: virtual and socially-distanced, in-person showings are underway, and remote closings facilitate transactions. For first-time buyers eager to unlock the best mortgage rates, these developments are encouraging and can pave the way for a smart investment that allows them to put some roots down in Canada's biggest and busiest city.
Why You Should Buy a House in 2020
All-time low mortgage rates

The Bank of Canada recently slashed interest rates on mortgages in response to the economic impact of the COVID-19 pandemic. Canadians facing unemployment and financial instability are at risk of defaulting on mortgage payments and losing their home — an outcome nobody wants or should suffer through, especially during a pandemic.

To prevent this and further economic decline, the Bank of Canada lowered interest rates, creating a great opportunity for home buyers. Mortgage rates have declined from 1.75% to 1.25% earlier this year, with the benchmark sitting at 0.25%. This has prompted aspiring homeowners to finally transition from renting to owning, even in extremely competitive — and expensive — markets like Toronto.

These lower mortgage rates are expected to hold steady for the year, allowing first-time buyers to qualify for a more affordable mortgage with lower interest rates. The combination of all-time low mortgage rates and first-time homebuyer incentives should make 2020 a good time for investing in the home you want and deserve.

Get Ahead of Other Buyers

Everyone is facing a degree of economic uncertainty during the pandemic, with unemployment being the biggest threat. But if you have long prepared for putting down roots in a prime city like Toronto, the combination of long-term savings and lower mortgage rates should make this the best time to buy a house. Money already set aside for a downpayment could translate to more valuable properties and better amenities, while job security should ensure manageable mortgage payments.

With virtual showings and closing transactions, the real estate industry continues to operate and support aspiring homeowners eager to take advantage of prime mortgage rates in Toronto. Plus, as other potential buyers — and competitors for the coveted property listings — rethink their finances, homebuyers willing to brave the current real estate market could be rewarded with lower rates, negotiation power, and affordable purchase prices.
Tips for Affording a Home in 2020
The truth is, economic shifts are a part of life — the key to navigating these and ensuring smart investments is financial preparedness. As a first-time buyer, there is never a perfect time for becoming a homeowner. Putting down roots always comes down to your financial health: savings, employment status, and mortgage rates and first-time buyer incentives you can unlock, often with the help of a savvy and experienced mortgage broker.
Check Your Financial Health

Owning a home is perhaps the biggest and single most important financial investment you will make. Putting up the down payment — a small percentage of the purchase price — is only the first step. What's more crucial is locking in affordable mortgage rates in a high-value housing market like Toronto, and sustaining monthly payments for the next decade or so.

Before even considering buying a home, think about why you intend to put down roots, especially now. Maybe you're getting married or starting a family and need a bigger space to accommodate these milestones. Beyond being a financial investment, homeownership is a lifestyle investment — consider who you're sharing it with, how much square footage you need, and what amenities you need to determine whether you can afford it well into the future.

Get Local

Where do you want to live? A housing market like Toronto offers many exciting — but often expensive — opportunities to live, work, and play among the city's hottest neighbourhoods and local attractions. For young families, a good neighbourhood within the range of an excellent school district is also a top priority.

As each of these lifestyle perks come at designated mortgage rates, it pays to do your research. Determine which local area and type of property would give you the best value for your money.

With less competition and lower mortgage rates, first-time buyers are at a great advantage: you can get the home you want for a lot less, in a prime location and with better amenities than what you could previously afford.

Put Down Real Roots

Becoming a homeowner means being in it for the long haul: this is where you will be living, and what you will be paying towards to ensure ownership and investment. This also means that if you're merely looking to make speculative investments that churn out quick, high-value returns, then you probably shouldn't be in real estate. Acquiring a property comes with a lot of costs outside of the purchase price itself, such as land transfer taxes, closing costs, and moving.
Buying a house at the best mortgage rates — and amidst this rollercoaster of a year — is still a major financial investment. Past the bargain deal in mortgage rates, the real value of your investment is in the long term: a home to live in, in exchange for a major financial obligation that requires making smart decisions about your financial health and the real estate market.
To learn more about buying a home in 2020 in Canada, call My Phoenix Group at 833-551-0266, or contact us here.