First-Time Homebuyers: How to Get the Best Mortgage Rates and Incentives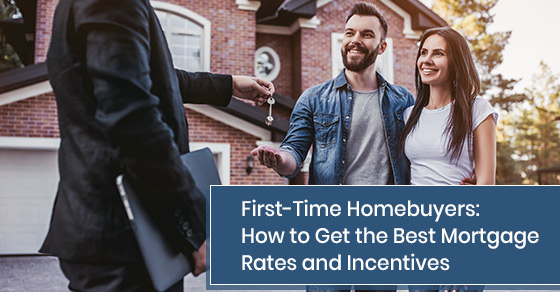 There's no better way to say, "I've made it," than buying your first home. It's a major, lifetime investment and a milestone worth celebrating. Climbing the property ladder and becoming a homeowner is a sign of financial and social stability that rewards you with a major asset and investment to your name — but it's also a serious commitment.
The first step to buying your first home is getting the best mortgage rates — and unlocking special discounts and financing options designed to help first-time buyers like you maximize your financial investment. 
This requires an honest conversation with yourself and loved ones you may be sharing this investment with. Ask yourself some of these questions: 
What's the housing market like in your area? 
Are homes going on the market within your price range? 
How much are you willing to invest? 
What are the terms of a mortgage you can comfortably sustain?
What mortgage rate can you get?
These questions may sound overwhelming, but figuring out your financial situation is the first step to unlocking available mortgage rates — and the most affordable and attractive for first-time buyers like you. Learn how to avail of the best mortgage rates, and get one step closer to earning the keys of your first home.
Find a Mortgage Broker 
In theory, anyone can walk into a bank or lender and inquire about mortgage plans. But the manual work of shopping around by yourself can be hard, especially when it's your first mortgage and major financial investment. 
The sheer number of available lenders in the market don't make it easy either. It may be tempting to go with who you already know and trust, like your bank, but while customer loyalty may reward you with increased credit card limits or air miles, it wouldn't necessarily translate to the best rates for bigger investments like mortgages.
A mortgage broker exists for this very purpose: to collect the best mortgage rates from reputable lenders and present you with options that suit your income, lifestyle, available down payment resources, and long-term financial outlook. Mortgage brokers often cultivate relationships with lenders to access the best rates and recommend plans based on their clients' financial health.
Choose Between Fixed or Variable Mortgage Rates
Mortgage rates are either fixed or variable; deciding between the two is a matter of determining which option better serves your long-term financial situation.
As its name suggests, a fixed-rate mortgage means the rate and monthly payments will remain consistent for the entire term of your mortgage. On the other hand, a variable mortgage rate means the rate will shift as the prime lending rate also changes, resulting in fluctuating payments depending on the market.
Many Canadians have benefited from variable-rate mortgages because this means saving on monthly payments as the market shifts favourably, resulting in declining prime lending rates. While it may be impossible to predict the future of the market, historical data has trended in favour of variable-rate mortgages. 
Of course, other buyers would prefer the predictability of making uniform monthly payments. This is even if the prime lending rates decline and result in higher interest payments over time, simply because a set amount can be easier to budget for.
The smart choice between these types of mortgage rates should be a factor of your long-term financial outlook. Opting for a variable-rate mortgage payment should be backed by enough savings throughout the term to afford slight changes in monthly payments if lending rates trend upward. 
On the other hand, going the fixed-route may mean less flexibility as mortgage payments remain the same, despite market changes that would have otherwise benefited you.
Study the Terms and Conditions
This should apply in any setting that requires you to agree to certain terms prior to using a service. When taking out a mortgage, the fine print spells out all the conditions of your loan throughout its term — and whether or not the plan is flexible to accommodate changes over the next few years or so to reflect your changing financial situation. Getting the best mortgage rate is only the first step, and what matters more is your ability to sustain it as your life also evolves.
The specific terms of your mortgage plan will detail how changes can be made in case of major life events, such as relocation to a new city, separation from your partner whose name is also on the loan, and moving to a different place. 
Be careful — some mortgage terms are punitive and trigger a penalty that forces you to pay up a large sum, especially that simply porting your mortgage plan to a new property does not always work.
Unlock First-Time Home Buyer Incentives
The Federal Government has launched a program that helps aspiring homeowners leap from renting to owning, especially as real estate prices continue to soar in certain hotspots. This shared equity mortgage allows you to qualify for financing without interest to reduce your monthly mortgage payment, but without raising the required down payment.
The First-Time Home Buyer Incentive provides 5% of the purchase price of an existing property, and 5% or 10% of a newly constructed home. The incentive amount will need to be repaid after 25 years, or when the property is sold, based on the fair market value of the property during the repayment. It can also be repaid at any time without incurring a prepayment penalty.
A few quick caveats with this: Aside from the required repayment, not all first-time homeowners can qualify. Income is a major factor in determining eligibility — while buyers with a combined household income of $120,000 and the minimum required 5% down payment can still apply, the amount of the mortgage plus the incentive cannot exceed four times your income. 
This means that the incentive may not be feasible in real estate hotspots like Toronto and Vancouver, where many aspiring homeowners are still renting to stay close to work and maintain a comfortable lifestyle.
Fortunately, this isn't the only incentive designed to help first-time homebuyers. Many lenders offer flexible rates and terms geared towards assisting aspiring homeowners in moving from renting to owning. An experienced mortgage broker can help source the best rates in the market and ensure the stability of this major financial investment.
For more information on finding the best mortgage rates and transitioning to a home of your own, call My Phoenix Group at 833-551-0266, or contact us here.