First-Time Home Buyer Incentive: What You Need to Know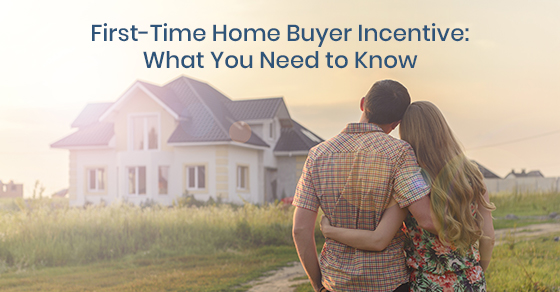 First-time home buyers have a lot to learn about the home buying process. Sometimes, programs offered by the government can make that learning process harder.
For example, the federal government's new First-Time Home Buyer Incentive (FTHBI) might have you excited that you can finally get a step up on the Toronto real estate ladder, when in fact it falls short on its promises. It is capped at about $505,000, which makes it very hard to find a single-family home in Toronto for that price.
The average house in the GTA starts not too far below $1 million. If you are a first-time home buyer, here's what you need to know about the First-Time Home Buyer Incentive.
How does FTHBI work?
The incentive offers 5% for resales and 10% for a new build towards your down payment. This provides money upfront while also allowing you to carry a smaller mortgage. This will reduce your monthly mortgage payments, however, there are some important things to note:
You will have to pay the government back at the end of your 25-year mortgage or when you sell your home
The money you pay back is not based on what they paid towards the down payment, but instead, you will owe 5% or 10% of the current value of your home.
When you sell your home or your mortgage matures, you will have to pay based on the current appraisal price of your home. This means the government gains on your home's appreciation.
If they paid 10% of a $500,000 new build home for example, but your home is appraised at $700,000 at the time of the sale or mortgage maturity date, you will actually have to pay them back $70,000. That's $20,000 more than what they gave you. In essence, the 5% or 10% the government lends you entitles them to 5% or 10% of your home-ownership.
How does FTHBI help in the GTA market?
The incentive doesn't help first-time buyers shopping in the GTA at all. Even traveling to the far outreaches of the GTA won't find you a home in the range of the government cap. In fact, you would have to travel as far as Brock to find a home even close to that range.
Even there, the average housing price sits about $5,000 above the cap. So, if you want to take advantage of the incentive and stay in Ontario you would be looking at areas such as London, Windsor or Niagara. That is a far commute if you work in the GTA.
What is the criteria to qualify for FTHBI?
When the incentive was introduced, homebuyers needed to have a household income of $120,000 or less, and a mortgage plus incentive that would not be more than four times your income. However, when potential buyers in higher-priced areas realized they wouldn't qualify, the government considered changing the rules.
If new rules come into play, they will make it easier for people to buy in the GTA. Household income would rise to up to $150,000 and the mortgage plus incentive would be five times your income. This would increase the purchase price cap to $789,473.
Homebuyers are more likely to find a home at that price although they will still have to travel further out to the edges of the GTA. There are some neighbourhoods closer to the city centre such as Scarborough where homes average $745,893 and parts of Etobicoke where homes can be found for around $785,400.
How will FTHBI affect the real estate market?
Although the program is designed to improve the housing market and bring home ownership into reach for more Canadians, there is speculation that it could continue to push housing prices higher.
In fact, in areas like Toronto where inventory is already low, if the program allows more home buyers to enter the market, the competition will become fiercer, which will push prices upwards.
What are the benefits of the FTHBI?
According to the government, those who qualify can save up to $286 per month on a $500,000 home. That translates into over $3,430 per year, which is nothing to sneeze at.
Despite the equity aspect of repayment, buyers who consider a five-year mortgage term will probably not have to pay back as much, which means they can get more when they finally sell their homes.
By having a shorter term, and not selling, the interest and default insurance premium savings are more likely to outweigh the equity owners have to give up should they pay back the money when they sell in 10 years, or stay in their homes and pay it back when their mortgages mature in 25 years.
What are the disadvantages of FTHBI?
In some cases, first-time buyers might find they qualify for as much as 10% more home loan if they go at it alone. As the incentive is capped, homeowners who can afford more might prefer to get a mortgage on their own and purchase a house in an area they prefer, or with more features they desire.
Also, because it is a shared-equity program, homeowners have to compare the amount of money they will gain annually by using the incentive to how much equity they will lose when they have to pay the government back.
For example, if you purchase a $500,000 home you will be given $25,000 and be saving $3,430 per year. For argument's sake, if you have a five-year mortgage term, in that period you will save $17,150.
If you don't sell your home and pay back the government at the maturity of your mortgage, even if housing prices rise by say 5% you would have to pay the government back $26,250.
However, if you deduct the $17,150 savings that means you will actually end up paying them back just $9,100.
If you would like more information on FTHBI and if it could help you, call My Phoenix Group at 833-551-0266 or contact us here.