A Guide On How To Prepare For Buying Your First Home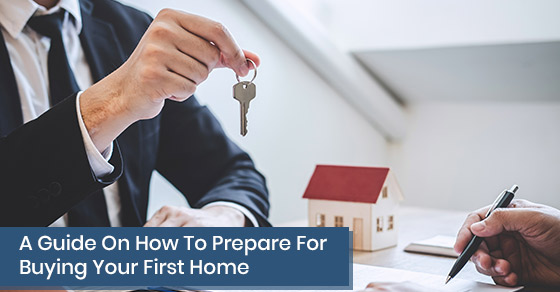 Buying and affording your first home is no easy feat, especially in a coveted, high-value real estate hotspot. The housing market in a prime real estate hub, like Toronto, is highly sought-after for its proximity to transit networks, business districts, and lifestyle attractions — and landing a coveted listing often comes at a steep price. But even for first time home buyers, affording this mortgage isn't — and shouldn't be — impossible.
The good news is, there are many resources designed to help first-time homebuyers make the jump from monthly rent to mortgage payments, and ensure financial preparedness and affordability in coveted housing markets like Toronto. From saving for a down payment to selecting the best mortgage terms and navigating closing costs, first-time homebuyers in Toronto can close with confidence and get the keys to a house you'll love living in.
Can I afford a mortgage?
It's a simple fact: buying a house is a major financial investment that requires a considerable amount of money. It doesn't matter whether you're in the market for a starter home or a bigger, long-term home — every homebuyer should save up and put down cash for a down payment, closing costs, and other related expenses.
Save for a Down Payment and Closing Costs
At anywhere between 5%-20% of the purchase price, the down payment is a small percentage, but still a sizable amount upfront, especially for listings in a real estate hotspot like Toronto. A larger down payment also rewards homebuyers with a more affordable mortgage, without needing a mortgage default insurance. But the question is, how do you save up for it?
Start with either a high-interest or tax-free savings account, and set up an automated savings plan. Not only will this help save up for a down payment, but you can also start preparing for sale-related expenses, such as closing costs.
Between the down payment and mortgage plan, a lot of first time home buyers forget to budget for legal and administrative expenses, such as land transfer tax, title insurance, GST and HST that are part of closing the sale. Saving for these early on eliminates the stress and hassle of shelling out an additional 1.5%-4% of the sale price, on top of other expenses.
Check Your Credit Score
Every major purchase or financial investment first requires checking your credit score. This rating helps lenders establish your financial history and determine the amount of risk involved in extending credit to you, especially for large amounts like a mortgage.
A high score means low risk which is determined by a previously established history of paying bills on time, avoiding defaulting on any payment, and overall sound spending habits and financial management. A high credit score also incentivizes lenders to provide first-time homebuyers with premium mortgage rates, especially in competitive housing markets like Toronto, as it indicates financial health.
Obtain a Mortgage Pre-Approval
Most first-time homebuyers think that the search for the perfect house and transitioning from renting to owning starts with attending open house events and browsing property listings in their desired neighbourhood. However, only savvy buyers know that the process should start with getting pre-approved for a first-time homebuyer mortgage in Toronto.
What is a mortgage pre-approval?
A mortgage pre-approval determines how much you can afford, allowing you to quickly narrow down property listings outside your price range. Obtaining a mortgage pre-approval early on also helps you calculate the amount of down payment required, the monthly mortgage payment, and closing costs that you need to budget for. A lender will then examine these against your finances to determine how much they can lend you and the corresponding interest rate.
Why get pre-approved for a mortgage?
Beyond establishing a comprehensive snapshot of your finances and potential financing options, obtaining a mortgage pre-approval early on can quickly put you in touch with real estate agents and sellers.
A lot of agents even require a pre-approval before negotiations, as it indicates that you are a serious and eligible first-time homebuyer, with a potential mortgage plan in place to finance the loan for the purchase.
How to Secure a Mortgage Pre-Approval
Lenders require several documents to pre-approve you for a mortgage. They will need government-issued identification, proof of employment and income, bank statements and proof of assets, and information regarding existing debts and loans.
Lenders use these documents to construct a full picture of your finances — how much you earn and have saved up, and current liabilities — to determine how large a mortgage you can afford and the level of risk involved in financing this loan.
Decide on a Mortgage Type and Rate
While mortgage rates are influenced by market conditions, every mortgage plan is specific to the financial situation of each homeowner. For first-time homebuyers in Toronto, this means deciding on a type of mortgage and rate that's easy to manage based on their employment, financial situation, and future outlook.
Open vs. Closed Mortgages

Open and closed mortgages vary in terms of flexibility in allowable repayments. An open mortgage favours homeowners who want the flexibility of renegotiating, refinancing, and repaying their mortgage varying amounts and timelines throughout its term. A closed mortgage, on the other hand, may result in penalties if homeowners want to repay or refinance their mortgage outside of the set terms.
When deciding between the two, consider your financial and lifestyle situation: are these expected to change, such as with a new job or a new addition to your household? Would you prefer to make more mortgage payments with a sudden cash windfall? Note that this flexibility offered by an open mortgage may come with higher interest rates, so it's important to get a full picture of your financial outlook before deciding.
Fixed vs. Variable Mortgage Rate
A fixed-rate mortgage means keeping interest rates locked in for the entire term of the mortgage. This favours first-time buyers who unlocked extremely low rates and plan on keeping these. Many new homeowners also favour a fixed-rate mortgage because it keeps their monthly payments predictable and easy to budget for.
In contrast, a variable rate mortgage results in fluctuating interest rates throughout the term, depending on changes in the prime lending rate. Historically, this rate has been declining, which rewards homeowners with lower interest rates. On the flip side, if rates were to suddenly trend upwards, homeowners would have to pay more in interest.
For first-time homebuyers, it's important to consider your ability to absorb changes in interest payments. Are you financially stable enough to afford these fluctuations, or would you prefer to keep interest rates locked in, even if that means paying slightly more compared to declining current lending rates?
Avail of First-Time Home Buyer Incentives
No matter how competitive the housing market is — especially in a prime market like Toronto — it's rewarding and welcoming for first-time home buyers. A lot of government-backed and lender incentives are specially designed to help aspiring homeowners like you afford a mortgage.
The Federal Government offers a First-Time Home Buyers' (FTHB) Tax Credit of up to $5,000, along with GST/HST rebates for acquiring a newly built house, and land transfer tax rebates. These incentives can greatly reduce the cost of becoming a homeowner, and reward you for making the sustainable, long-term jump from renting to owning.
With these incentives, it's easier to save up on the cost of your first house and become a certified homeowner with roots successfully put down in one of the world's best places to live. Happy house hunting — and finding the best property and mortgage plan designed for the savvy first-time home buyer!
To learn more about obtaining a first-time homebuyer mortgage in Toronto, call My Phoenix Group at 833-551-0266, or contact us here.