A First-Time Buyer's Guide to Selecting the Right Home Mortgage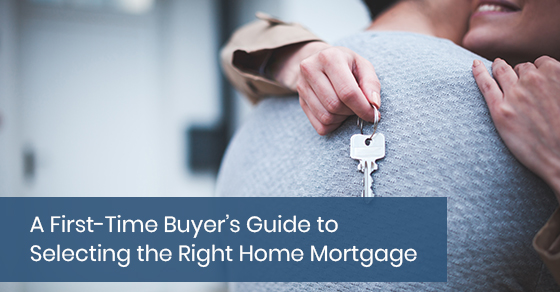 Many aspiring homeowners look forward to browsing listings and attending open house events and showings — exercises in determining whether they can see themselves living in the property and among its surrounding community. The part they don't look forward to as much? Going through the mortgage approval process.
Mortgage approval appears tedious and daunting, as it requires a thorough assessment of your financial history and future outlook. However, it's important to remember that the entire experience of signing up for a mortgage plan has a rewarding conclusion: it sets you up for acquiring your own home, and it's designed to help you manage its long-term affordability.
Know Your Mortgage Terms
As a first-time home buyer, you may not have a lot of experience dealing with mortgages. Mortgage terms exist to help you manage your real estate investment, and it pays to secure your investment based on the most crucial components of every mortgage plan.
Do you want the option of flexible mortgage payments? Can your income handle a slight uptick in monthly payments if interest rates change? Working with an experienced mortgage broker should help distinguish between these options and allow you to select the best fit for your financial outlook:
Open vs. Closed Mortgages
This determines how you make mortgage payments and the flexibility of the payment schedule. An open mortgage can be fully paid off, refinanced, or renegotiated without penalties, while a closed one remains fixed until the end of its terms unless a penalty is applied.
Amortization Period

This determines how long it will take to pay off the mortgage in full.
Mortgage Term
Choose between a short- and long-term mortgage. A short-term mortgage is favourable if interest rates are expected to decline, resulting in lower payments, while a long-term plan is ideal if rates are already steadily low.
Fixed or Variable Interest Rates
As its name implies, a fixed mortgage keeps the interest rates the same, resulting in uniform mortgage payments. In contrast, a variable mortgage calculates interest rates depending on the prime lending rate, which can rise or fall according to the market, resulting in varied mortgage payments.
The Mortgage Approval Process
One of the most common questions among aspiring homeowners is how long it takes to secure approval for a mortgage. As a first-time home buyer, this process may sound daunting and extensive because lenders have to establish your financial history and ensure that you have the necessary resources to sustain a real estate investment.
But did you know that a mortgage approval can be secured in as little as 24 to 48 hours? While there are several documents you need to present to establish your financial history, employment, and credit score, lenders will provide an answer in as short as one to two days.
It helps to work with a mortgage broker with the right experience in assisting first-time buyers and is connected to trusted lenders. They can facilitate the application and ensure that the information is complete for fast and smooth approval.
Compare Mortgage Rates and Terms
As with any loan, mortgages consist of principal and interest rates applied over a defined term. Beyond the principal amount, monthly payments also include interest as the loan matures over time. The amount of each subsequent payment is also determined by the length of the term, the amortization period, and if the mortgage is open or closed.
It's especially crucial to select the type of interest rate with a clear picture of your financial outlook, as interest rates can vary and impact the amount of monthly payments. On the flip side, a mortgage broker may also advise a fixed interest rate if a set amount is easier to budget for, at risk of above-market rate interest payments if the prime lending rate declines.
When deciding on a mortgage plan, make sure to consult an experienced mortgage broker who can help examine your long-term financial situation, and ensure that you can sustain regular payments towards this major real estate investment.
Best Mortgage Options for First-Time Home Buyers
As a first-time home buyer, it's essential to keep in mind that the home you purchase this year may not be the one you retire in. It's common for younger homeowners to opt for a starter home as they begin to achieve financial stability, and opt to upgrade to larger properties that can accommodate their growing needs as their lives evolve.
Mortgage brokers experienced in working with first-time buyers recommend thinking through different mortgage options with both short-term and long-term goals in mind.
Mortgage Portability
For instance, if you know you are purchasing a starter home that you plan to live in for the next five or seven years before starting a family, it pays to consider factors like interest rates and portability — or the ability to transfer the remainder of a mortgage, if any, to a new property without incurring a penalty.
Lenders typically offer a range of portability options expressed in rates and time. A lender can offer higher rates that allow you to add value to the mortgage, which is useful if you are porting it to a new property that costs more, as well as a 60-day minimum for closing the new mortgage after the sale of your starter home.
But if your starter home is a property that can grow along with your changing needs in the next five years, you can consider lower interest rates in exchange for certain prepayment restrictions, or risk charges like penalties.
These fixed terms are ideal if you don't foresee any need to move, refinance, or make big prepayments towards your loan. Be prepared to discuss your goals with an experienced mortgage broker so they can recommend the right portability features in line with your future.
Fixed, Variable, or Hybrid Mortgages
Historically — and despite the outright perception of risk in the term — variable interest rates have favoured Canadian homeowners as the real estate market has remained stable, and the prime lending rates low. This means lower interest and monthly mortgage payments.
However, this can also mean a slight uptick in payments if rates were to trend upwards. While the benefits of low-interest rates are attractive, the key consideration here is whether your finances can absorb a slight increase in payments if rates start climbing.
For first-time home buyers with little mortgage experience, a 5-year fixed rate may be preferable because it presents a generally lower risk. Over time, you may consider a variable rate as you continue to save at least 5% of your monthly income and maintain a good credit score.
This allows you to recoup savings from lower interest payments. Similarly, an experienced mortgage broker may recommend a hybrid option, wherein the mortgage is split into a fixed and variable rate. This presents an opportunity to save with lower interest rates but also offers the necessary protection by maintaining stable payments if rates climb.
To learn more about selecting the right mortgage and the benefits of working with an experienced mortgage broker, call My Phoenix Group at 833-551-0266 or contact us here.