5 Simple Steps to Get Pre-Approved for a Mortgage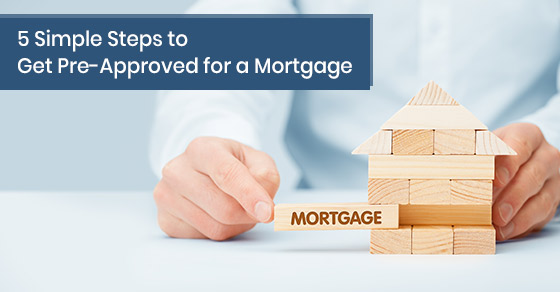 For many aspiring homeowners, browsing listings and attending open houses in their desired neighbourhoods is the most exciting part of moving into their dream home. It's also often thought of as the first step in acquiring a house — but only serious home buyers know that it isn't, and it shouldn't.
Buying a home starts in a lender or mortgage broker's office. The hard work you've put into affording a home starts with qualifying for a mortgage, and the amount and terms are determined by your current financial situation and future outlook. The size of the mortgage available to you will increase the amount your lender believes you can comfortably sustain for the duration of the mortgage.
To speed up this process, many lenders offer mortgage pre-approval, which sets you up for available properties in your price range and financial situation. From there, it's easier to see which condo or home. The key here is to secure a mortgage pre-approval early on in the house-hunting process, so you can quickly filter the properties that suit your circumstances.
What is a mortgage pre-approval?
A mortgage pre-approval is a fast and easy way to certify that lenders will loan you a certain amount with a corresponding interest rate to fund your purchase of a home. A pre-approval often speeds up the house-hunting and negotiation process, as sellers expect serious buyers to back initial offers or even interest in the property with proof that they can afford the purchase by obtaining necessary financing from reputable lenders.
A lot of sellers fret about securing a mortgage pre-approval as it seems to involve a lot of preparation and probing into a potential buyer's income and personal finances, as well as credit rating and other verifiable information that determines their ability to afford this major investment. 
However, there's no fee or commitment involved in securing a mortgage pre-approval, and it can be done online. It also benefits you throughout the house-hunting and negotiation process. It sets the maximum amount you can borrow, and point you towards listings that you have a very good chance of acquiring. 
A mortgage pre-approval establishes you as a serious buyer, with verifiable assets, income, good credit, employment, and other documentation that confirms your intent as a legitimate buyer and responsible homeowner. Some sellers even request that viewers have a pre-approval before letting them book a viewing!
What do I need for a mortgage pre-approval?
Securing a mortgage pre-approval is a fast and simple process. It only requires a few key documents that detail your financial situation, such as:
Pay stubs, a confirmation letter from your employer, or tax documentation.
Bank statements, investments, vehicles, real estate, and other types of property that establish your net worth.
Declaration of liabilities
Details about any current debt from credit cards and other loans that you hold.
A valid Canadian ID, such as a driver's license or passport.
With these documents, lenders can verify your credit and financial information, and issue a mortgage pre-approval for a specific loan amount valid for 60-90 days, which can then be matched to listings in your price range. Note that the final loan approval is secured after the appraisal, and the loan is applied to a specific property.
How to Secure Mortgage Pre-Approval Documents
As outlined above, there are a few documents required to secure a mortgage pre-approval, and determine property listings within your financial circumstances to help negotiate with sellers effectively.
1. Obtain proof of income
Money in the bank and other assets may indicate that you've been saving up a down payment, but it's steady income that enables you to sustain monthly mortgage payments. This forms the much larger chunk of the loan.
To secure a mortgage pre-approval, you will need to present tax returns and recent pay stubs. The tax returns provide an annual and historical view into your income sources and their stability, while recent information about wages proves the continuity of employment and a steady income stream for affording future payments.
2. Present proof of assets
Bank statements, investment accounts, cash reserves, and even other real estate are all assets that speak to your net worth and ability to afford the initial down payment, and perhaps even fund mortgage payments. In particular, these assets are key to funding the down payment, which is a percentage of the selling price. 
Most loans also require the purchase of private mortgage insurance or payment of either the insurance premium or funding fee to guarantee the sale, unless they are paying at least 20% of the purchase price upfront. 
Ironing out these details in the mortgage pre-approval phase saves you the hassle of securing related documents and necessary insurance later on in the process, and further cements your intent as a serious buyer with enough resources to move on to the approval and purchase stages.
3. Get a credit check
A good credit score is necessary for almost anything these days, but even more so for major investments such as buying a house. A credit report obtained in the mortgage pre-approval phase indicates to lenders that you consistently strive to meet existing financial obligations — a responsible borrower and homeowner they would not have problem lending to, even for highly coveted property listings.
In contrast, a less-than-optimal credit score indicates a risk. While lenders may still issue a mortgage pre-approval, they may do so only for a lower amount. This may also prompt you to make a larger down payment to compensate for the credit rating and establish yourself as a serious buyer. 
Reputable and experienced lenders often offer to work with clients in improving their credit score and prepare them for a new round of pre-approval or optimal loan approval.
4. Verify your employment
A stable job means stable income, and a stable income means that ability to afford monthly mortgage payments. But beyond recent pay stubs that show your wages, a mortgage pre-approval requires establishing a stable financial history, i.e. stable employment. 
To prove this, you will need to prepare tax returns, as well as submit proof of employment and salary, such as a letter from your employer. Lenders may even contact an employer to verify that you make as much as the reported income to ensure that you can afford mortgage payments.
In the case of self-employed buyers, additional paperwork detailing the financial situation of their business and income sources may be required. Lenders will look into the stability of their income as it often fluctuates, as well as the location and nature of their enterprise to understand the demand for their product or service and the financial viability of their business.
Be Prepared to Submit Additional Documents
Valid identification, such as a driver's license or passport, is essential to mortgage pre-approval. You will also need to consent to a credit check, which entails providing a lender with your social security number. However, depending on your financial situation and personal history, you may also be asked to submit other additional paperwork — and the faster you do, the sooner you can obtain the pre-approval and get one step closer to the home of your dreams.
To learn more about obtaining a mortgage pre-approval and securing yours in time for house-hunting, call My Phoenix Group at 833-551-0266, or contact us here.